Cool: Holograms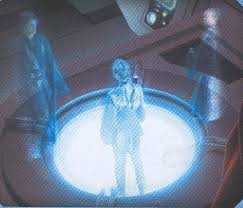 |ƒvƒ‰ƒYƒ}'Ì"­Œõ'ð—p'¢'āgƒŠƒAƒ‹'È'RŽŸŒ³(3D)‰f'œh'Ì‹óŠÔ•`‰æ'ɐ¬Œ÷|!
Oops, I mean:
Technology of carrying out the focus
of the laser beam all over space, plasma-izing air and making it emitting light The technology which controls the luminosity, contrast, and generation distance of the plasma to generate is developed. It succeeds in displaying "a real 3-dimensional (3D) image" on the space which does not exist at all except air for the first time in the world.