Everything old is new again
Actually,
this
is pretty freakin' cool in its way: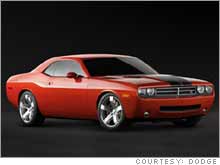 NEW YORK (CNN/Money) - With an appearance that draws heavily from the classic muscle cars of the late 1960s and early '70s, the Dodge Challenger, premiering in concept car form at next week's Detroit Auto Show, should satisfy those who thought the 4-door Dodge Charger just didn't have the right stuff.

This time around, the number of doors stays true to the original spirit. Just two.